I

have been still finding new Rums and Rum Distillers as well as many of them finding us. Three I'd like to mention are:
Lyon Distilling: The link is to their Facebook page... Hoping to find out more and see if we can't long distance Taste-Test.
Gubba Rum: Link is hot. This sounds like another place that deserves a real look. Can't wait to bring you more!!
Harvest Rum - Wilderness Trail Distillery: Rounds out the trio. I will be following up about
them as well, soon....
Don't forget National Rum Day - Have a Rum Saturday and have an American Made Craft rum - if your favorite place doesn't carry them -- ASK...
This segment is to let you know how a local Distiller has gotten some real publicity and is showing big-time growth...
From The Plainfield Patch:
High-Flying Family's Rum Dream Takes Flight: Big Things in the Works for Plainfield Distillery
A reality TV show will feature the Plainfield business, which is expanding its reach.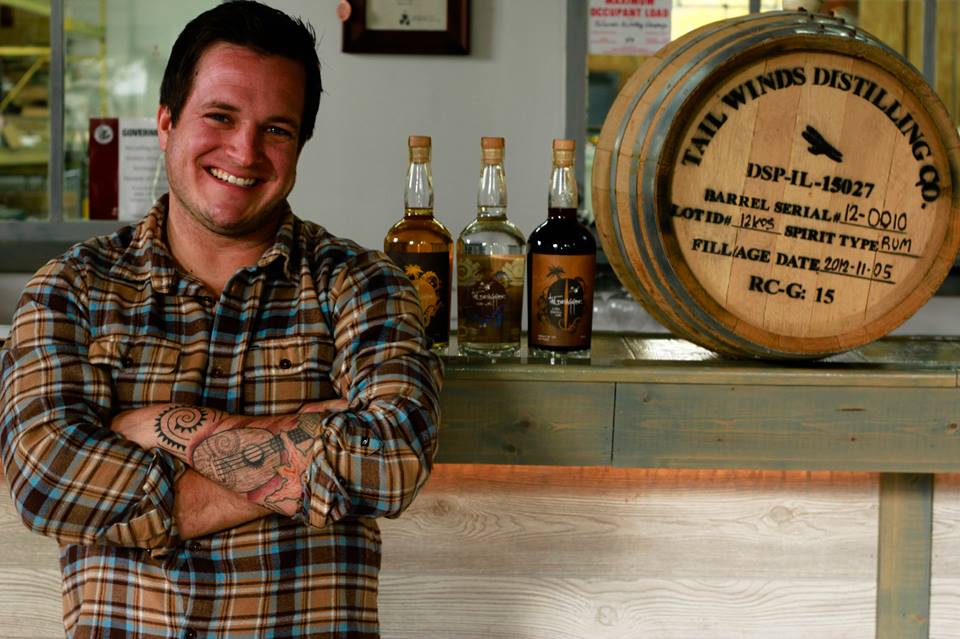 Toby Beall runs Tailwinds Distilling with the help of his family. Credit: Submitted photo
When you think of rum, you think of warm, Caribbean breezes – not cold Illinois winters.
But two years ago, Toby Beall and wife Jillian took a leap of faith and
opened Tailwinds Distilling Co.,
making
several varieties of rum and blue agave spirit
out of industrial building at 14912 S. Eastern Ave.
"These are two of the spirits you don't normally see in the Midwest," 34-year-old Beall said. "We're the only ones making rum and agave spirit in Illinois," he added, joking, "Nobody is worried about us stepping on their toes."
Now, the company is expanding by increasing its distribution to other states — and Beall said he expects the popularity of the products to continue to increase.
"It's just a matter of time before [rum] is as big as whiskey," he said.
Tailwinds produces three varieties of its Taildragger rum — white, amber and a coffee-flavored seasonal — as well as "Silver" and "Rested" Midnight Caye agave spirit. Beall said the company is taking rum back to its roots in the original American colonies.
"There are not a lot of U.S. producers, despite America being one of the first producers" of the spirit, Beall said. Tailwinds uses organic molasses imported from Louisiana, as well as Caribbean strains of yeast, to make its rum, taking care not to use products that have been overprocessed.
"We're not doing anything different than it's been doing in the last 300 years," Beall said. "We're just doing it differently than it's been done in the last 50."
Tailwinds is a family affair — brothers Jamey, 29, and Casey, 24, also work there, Beall said. Like Toby, Jamey also works as a pilot.
Beall said it was their travels to the Caribbean and South America that inspired the brothers' love of rum.
The family's love for aviation — as well as all things tropical — can also be seen in the décor in Tailwinds' Eastern Avenue tasting room.
"It's kind of our little beach bar," he said. "Something to make you forget when it's 30 degrees in January."
In addition to a tropical motif, the tasting room boasts a large aviation map. Beall said pilots who have stopped by have left a bit of themselves behind by signing the map.
'We can't keep up' - demand high for Tailwinds spirits
After launching in 2012, Tailwinds currently only distributes its products in Chicagoland, but that will soon change. Beall said the company recently signed deals to ship to Michigan, Wisconsin and Indiana.
"It's moving a lot faster than I thought it would," he said. In its first year, Tailwinds produced 250 cases of product; this year, Beall estimated it will make more than 800 cases.
"We can't keep up," he said. "Chicago has been great for us."
Tailwinds products are available at area Binny's and Whole Foods locations, as well as Chicago-area restaurants.
You can also taste the locally produced rum and agave spirit in the tasting room. "It's great because we can see people's reactions" to the spirits firsthand, Beall said.
Eventually, Beall said he would like to be able to sell cocktails out of the location. For now, patrons can stop by and sip rum and agave spirit at the Eastern Avenue tasting room, which also sells bottles.
Reality show in the works
Beall said the family recently finished filming on a reality show — adding that he can't divulge when or where the show will air just yet.
"I can't give the details," he said, but did reveal that the show will also feature Blaum Brothers Distilling in Galena, a producer of whiskey, vodka and gin.
Check out
Tailwinds' website
and
Facebook page
for updates on the soon-to-be announced details.
Tailwinds' tasting room is open from noon to 7 p.m. Friday and Saturday and noon to 5 p.m. Sunday. Visit the website to
schedule a tour
, or
check out a list of places to buy Tailwinds products.
Congrats guys -- You were my first Rum Distillery visit, so you have a special place here. Can't wait to hear more!